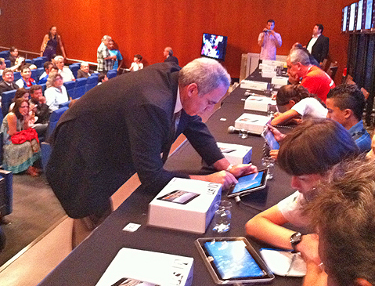 On August 29th, the  Ex-World Chess Champion and chess legend Gari Kaspárov played and exhibition simul game with the Semp-Toshiba myPad tablet using our app Mobialia Chess.
This game was played at the Brazilian Federal District against 13 opponents with some politicians among them.
The event was a presentation of the new Semp-Toshiba myPad Android tablet featuring a 10″ screen and a Nvidia Tegra 250 dual-core 1Ghz CPU. This is the fist tablet device made in Brazil!
We are very proud that Semp-Toshiba choosed our chess app, and to celebrate it we released a new Mobialia Chess version with portuguese translation. Android tablets are great devices to play chess and we expect a big increment of tablet devices running our chess app.