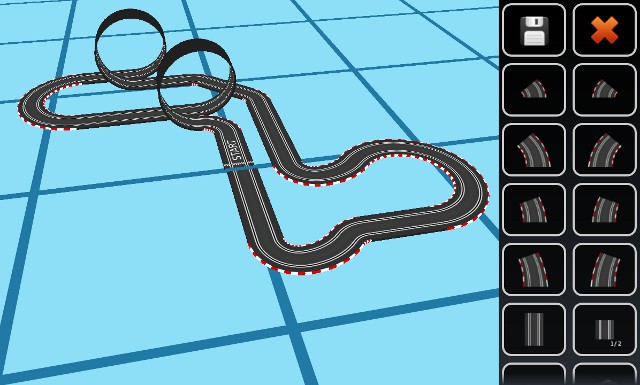 We just updated our Slot Racing game on the Android Market adding the circuit editor. Now you can use your imagination to build the most incredible circuits.
It's quite simple to use, you can press a track button to add it to the circuit. There is a "save" button to store the circuit (if it is closed) and a cross to delete the last track added. The editor supports the "pinch to zoom" gesture to zoom in or out. you can also slide your finger to change the viewing angle.
You can raise or lower the track with two buttons (up and down arrow), but there are also two special tracks, the "up" and the "down" that are quarter straights curved 11.25 degrees (90º/8). You can also add the "bridge" decoration to any elevated track.
If you play via bluetooth on a custom circuit, this circuit is automatically added to your opponent's circuit list, so it's very easy to share your circuits.
Circuits are stored on the "SlotRacing/" directory of the SD card. We created a simple XML format to define the circuits, and yes, you can create your circuit collection and share them among devices copying this folder.
If you create a great circuit and you want us to include it on the "Simple" or "4 Lane" category, send us your XML and we will add it.
Hope you enjoy this new feature!